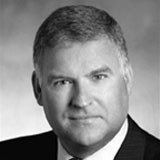 Frederick J. Mifflin
Vice Chairman
Fred joined Blair Franklin in 2007. Throughout his investment banking career, he has been responsible for numerous advisory, financing, privatization and restructuring assignments and has extensive experience in the areas of diversified industries, mining and metals, government and public sector entities, and financial services.
From 1989 to 2006, Fred was with BMO Capital Markets, most recently as Vice Chairman and Head of Global Investment and Corporate Banking. In that role, he was responsible for all of the firm's origination business in Canada, the United States, Europe and Asia, including the firm's expansion into China. From 2001 to 2004, he was Deputy Head and Chief Operating Officer; from 1997 to 2001, he ran the firm's global mining and metals business; from 1992 to 1997 he was responsible for the firm's government and privatization practice; and from 1989 to 1992, he was a member of the Capital Markets Group. Prior to joining BMO, Fred spent six years with Citicorp Investment Bank and McLeod Young Weir Limited in investment banking and international capital markets.
Fred is also active in several board and community organizations. He is currently the Lead Independent Director and Chair of the Audit Committee of Altius Minerals Corporation (ALS:T), Chair of Trinity Capital Management Inc., a private holding and operating company, and a Director of the Canadian Club of Toronto.
Fred holds a B.Comm. (Honours) degree from Queen's University, an M.B.A. degree from The University of Chicago and is a graduate of the Advanced Management Program of the Harvard Business School. He has also been an Executive in Residence at INSEAD in France and Singapore.